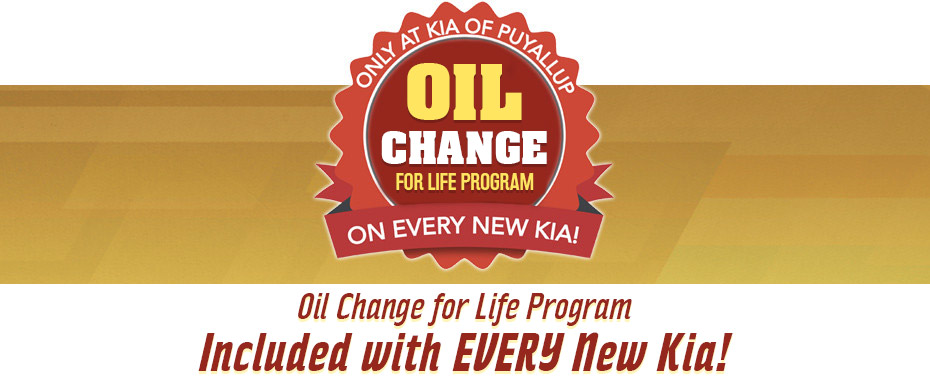 KIA OF PUYALLUP'S LIFETIME OIL CHANGES
Get a Lifetime of Oil Change Support from the experts at Kia of Puyallup
Contact your Kia of Puyallup representative today!
How To Qualify:
Buy or lease any new vehicle from Kia of Puyallup and lifetime oil changes will be included.
Kia of Puyallup's Lifetime Oil Changes Include the Following:
Replace oil filter with factory Kia oil filter
Replace drain plug gasket and torque drain plug to factory specifications
Change engine oil
Rotate tires as required
Set tire pressure to factory specifications
Perform a comprehensive multi-point vehicle inspection (written report included)
Test battery condition (with print out)
Alignment quick check at no additional cost (with print out)
Install reminder sticker or reset maintenance system as required
Machine wash vehicle and vacuum vehicle
Offer Details
Kia of Puyallup's Lifetime Oil Changes covers only the services listed above and must be performed by Kia of Puyallup. Any additional factory required maintenance, preventative maintenance, other maintenance, repairs or any other service, parts and/or labor is the sole responsibility of the vehicles owner. Kia of Puyallup's Lifetime Oil Change service is only available to the original owner, is not transferable and has no cash value. Oil and filter services under the Lifetime Oil Change's service follow the manufactures maintenance schedule and will only be performed when deemed necessary by the manufacturer. An owner may specify synthetic engine oil, but will be charged the difference between regular oil and synthetic oil unless synthetic oil is specifically required by the manufacture. Commercial vehicles or other vehicles used for business are excluded (example: Uber, Lyft, etc.). Kia of Puyallup's Oil Change's For Life service will be honored at Kia of Puyallup as long as Kia of Puyallup is in business under current ownership Sawyer CG. Program start date is May 1st, 2017. Vehicles purchased on or after May 1st, 2017 qualify for Kia of Puyallup's Lifetime Oil Change service.